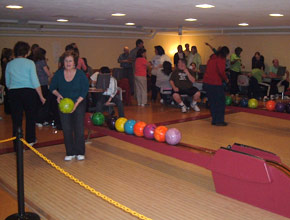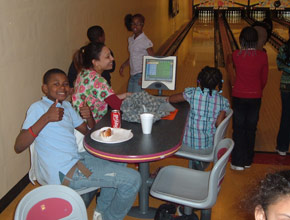 Make your next party a PEP Bowl party!
Whether you want to rent a lane or two or our whole facility, PEP Bowl can accommodate your affair and help make it unforgettably fun! Bring your own food and beverages, or let us help you arrange catering. PepBowl has a B.Y.O.B. policy: Call for details.
Birthday Party Packages
Monday – Friday: Cost- $40 per lane per hour.
Saturday before 6pm: Cost: $40 per lane per hour.
Saturday after 6pm: Cost $45 per lanes per hour.
Sunday: Cost: $40 per lane per hour.
All Birthday packages include: shoe rental and equipment usage. Child rated music during the party and LOTS OF FUN.
You may bring in your own food and beverages. We do not have ice
We have a snack bar and can provide the following:
FOOD: Hot Dogs, Hot Sausage, Nacho Chips, potato chips, and Popcorn.
DRINKS: 12oz. Cans of Soda, Bottled Water, Juice Boxes.
Rates
One lane (up to 8 bowlers): Rate: $40 per hour
Entire facility: $240 per hour. Exception::::Saturday after 6pm rates: $45 per hour per lane and $270 per hour for the entire facility. State ID is required to consume alcohol in our bowling center.
Discounts are available for non-profit organizations.
Call us at (215) 952-BOWL to book your party today, or contact us for more information!